Dendi LIS supports network printing for lab staff (internal users) through a service called PrintNode. We exclusively support Zebra label printers for internal users, and other label printer brands are not compatible with our system. The recommended label size is 2.25" x 1.25" for regular labels, but we also do support a smaller label size of 1.2" x 0.85". In order to make use of printing with Dendi, PrintNode must be installed and the desired printers must be added. Although PrintNode is technically supported on many operating systems, Dendi highly recommends users only use Windows 10 instead of Windows 7, Linux, and Mac OS on computers connected to printers.
How do I install PrintNode and add a new Zebra printer? (Windows 10 only)
1. Download & install the PrintNode client on computers that will be connected to printers and log in using printnode account credentials.
a. PrintNode client can be downloaded at https://www.printnode.com/en/download
b. Contact Dendi support for PrintNode account credentials if unknown.
2. Connect the USB cable from the Zebra printer to the computer. Turn on the printer.
3. Rename the printer in Windows 10 to be easily Identifiable (e.g. Accessioning Printer)
a. https://www.windowscentral.com/how-rename-printer-windows-10
4. Go to PrintNode settings -> Printers -> Deselect "Printers active by default".
5. Select desired Zebra label printers as active
a. Note: At the end of this step, only the zebra printer should be checked as 'Active' in Printnode.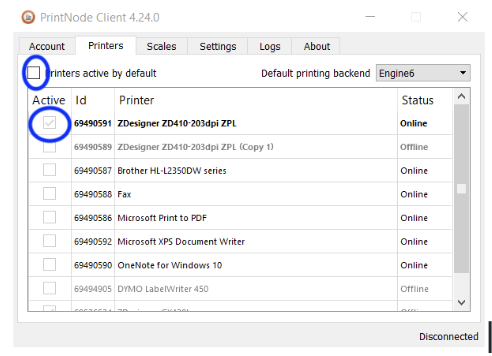 Changing printer settings
From the details page for an individual printer, click the Yellow Edit (Pencil) Printer Settings button to access various settings:
Printer Label Template

: Select between label templates (size & information)

Scale Percentage

: Adjust the size of the text of whatever's being printed to better-fit labels being used

Barcode X Offset

: Adjust X-offset for the barcode on sample label to better-fit labels being used

Use this printer as the default printer

: This printer will be shown first in the available printer dropdowns